100 Things To Do in Malta – The Ultimate Guide
Yes! Malta might be only spreading just over 316km², but there is so much to do! Maltatina blog celebrates 30 months of adventuring! The perfect reason to put together the ultimate guide!
100 of (alternative) things to do, places to visit, experiences to enjoy, stunning views to remember! The 'must have' list for everyone visiting Malta, all the (struggling) expats and of course to remind all the Maltese what they should be proud of! All of the below places I personally visited and documented.
Here it is! 100 things to do in Malta, Gozo and Comino!
Nature
Yes, Malta has plenty of naturally green areas and stunning natural scenery. Here are the must see places from this category:
1. Blue Grotto. Arguably the most popular natural landmark in Malta, especially after Azure Window, Gozo collapsed in March 2017. Don't miss the boat trips! Outstanding views!
2. Qammieh. This rocky seashore in Mellieha will blow your mind, stunning, peaceful, adventurous. Perfect place to get away from it all! I've been number of times and will go again.
3. Wied il-Ghasri. Stunning secluded inlet with a tiny pebbly beach wedged between high cliffs. Unique swimming experience.
4. Ras id-Dawwara. This is the perfect place to appreciate the stunning scenery and watch the sunset. You can walk, run or even cycle around the area.
5. Blata tal-Melh. I think this would be my favourite place from them all. It's so unusual, so unique and well hidden. For true adventures! It's not easy to get to, but the best things are hard to get.
6. St. Peter's Pool. Very popular place for swimming. When you there, don't just lie down on the rocks. Explore around the corner you will be surprise to see what's hiding there!
7. Munxar Path. Perfect place for a morning walk, I mean any kind of walk. Stunning scenery and hardly any people. You got to go! the earlier start the better cause of the hot summer sun!
8. Coral Lagoon. Nature is the best creator and this is the proof! An amazing place to swim! Rent a kayak and go and explore!
9. Fawwara. You will definitely enjoy this panoramic walk with number of beautiful landmarks on the way.
10. Maltese Windows. Were you in love with the Azure Window and cannot accept the fact that it's gone? Check these ones out! You will be pleasantly surprised to see other gorgeous windows.
11. Xlendi's coastline. Xlendi is not just a pretty bay, good restaurants and delicious ice cream! There is a beautiful trek waiting for you.
Walks & Treks
Walking and trekking around the Maltese Islands is my favourite activity. I mostly don't know where I'm going, no set goals or targets, but I always discover new beautiful places! This is how I spent my winters and spring months in Malta.
12. Selmun Walk. One of my very first treks. Lovely area of Selmun. You can walk all the way to the St. Paul's Islands and admire them closely.
13. Valley of Honey. This is one of my favourite treks and I keep returning to this gorgeous valley. And the tiny chapel in the rocks is just magical!
14. Il-Qolla. One of those places I discovered by coincidence. Went to Chadwick Lakes and ended up here. Skip the 'lakes' and just come over here! Great views!
15. Ras il-Qarraba promontory. Since it's located next to Ghajn Tuffieha beach it became quite popular. But not everyone walks all the way around! Try it.
16. Xemxija Heritage Trail. Great trek in a quiet part of Xemxija with great number of historical sites – caves, tombs, dwellings and 1000 yrs old Carob tree!
17. Tas-Salvatur Hill. Brazil got Christ the Redeemer in Rio de Janeiro and Gozo got Statue of the Risen Christ in Marsalforn! Got to check it out!
18. Marks & Dukes Window. Sadly, Azure Window is gone forever, but there are many beautiful windows remaining around Malta and Gozo. Here is one.
19. Fomm ir-Rih. Picturesque and quiet area. Away from it all. Stunning natural creations. You can reach it by car. Trekking shoes recommended.
20. Ghar Hanex Window. Another beautiful window created by mother nature. Very close to Mnajdra Temples, but a bit difficult to reach. Up for a challenge?
21. Trekking around Northern Malta. Interesting and at times challenging trek just under neath the old radar station in Mellieha leading to Qammieh area.
22. From Fort Chambray to Mgarr. Once there was a huge traffic jam to Gozo Ferry. Left my partner in the car and walked it to the ferry instead. I was faster!
23. Il-Wardija. Perfect winter walk if you're from the north area. The shape of the hills reminds me of the rice fields in Bali! Look at the last 2 photos!
24. Victoria Lines. The longest trek I've done in Malta. From the east coast all to way across to the west coastline. Great historical experience.
25. Buskett Gardens & Madonna tal-Girgenti. Buskett gardens is the largest woodland area in Malta. Perfect place to visit in winter & spring.
26. Wardija Punic Temple. Mystical place that's worth the possible fine for trespassing because the temple is located on a private land. Risk it. It's worth it.
27. Trekking around Comino. Comino is not just Blue Lagoon! There is a gorgeous trek all the way around the island. You can read all about it here & here.
Places of Interest
Some popular, some less and some pretty unknown. Great mixture of interesting places that everyone will be able to find something for themselves.
28. Marsaxlokk. Popular fishing village that doesn't need an introduction. You got to visit & eat a local fish for lunch. A picture with the Maltese luzzu is also a must!
29. Valletta's side streets. When visiting Malta's capital city, try and wonder around and walk through the quiet streets. Loving the local colourful houses.
30. Fort Manoel. Beautifully restored fortress on Manoel Island in Gzira. Occasional Open Days organised, so make sure you visit on the next one! Worth it.
31. Xwejni Salt Pans. One of the must visit places in Gozo. The landscape is absolutely magnificent. Take pictures, learn the story and buy local salt!
32. Santa Marija Tower in Comino. The only watch tower in Comino offering spectacular views of Comino, Gozo & Malta. Do you know which movie was filmed there?
33. Mdina Ditch Garden. Wonderfully restored gardens on the outskirts of Mdina. Don't forget to walk down when visiting the Silent City.
34. Laferla Cross. Once I was driving though Siggiwi and saw a cross on top of a hill. I had to stop and check it out. Very nice walk, great views and beautiful landmark.
35. Il-Maqluba. This sink hole is located in the small village of Qrendi just behind St. Matthew's Chapel. An unusual natural creation that is worth visiting if you're near by.
36. Red Tower. This watchtower overlooking Mellieha is a must especially if you're staying up north. Offering great views as well as interesting history. You got to go.
37. Floriana Underground Train Station. Yes, once upon a time Malta had a train in operation! This is not normally open to public. There are organised Open Days so watch out for the next one!
38. Addolorata Cemetery. It might be an unusual place to (voluntarily) visit, but still one of my favourite places in Malta. Astonishing Neo-gothic architecture in Malta!
39. Duck Village. Totally bizarre volunteer-run sanctuary for ducks and many other animals. Might be strange looking, but yet very popular place to visit, especially with children.
40. Xerri's Grotto. Beautiful grotto that was discovered coincidentally is hiding underneath a private house in Xaghra, Gozo. A very unexpected gem to see on such a dry island!
41. Ta' Kenuna Tower. This tower is situated in the Gozitan village of Nadur and is surrounded by a lovely park with pathways, little pond and offering stunning views of Gozo & Comino.
42. Commonwealth Walk. An alternative way to explore Valletta that takes you around 20 great points of interest. A great way to see how familiar you are with the treasures of our capital.
43. Manoel Theatre. Behind simple stone walls you can find a beautiful small theatre. The third oldest theatre in Europe in constant use that will blow you away with its stunning decor!
44. Villa Bologna. This privately owned 18th century villa in which the successors of the family that built it in 1745 still live in also offers beautiful garden that one can enjoy all day long!
45. Top of the World. As the name is reveals, you will feel like on top of the world when you see the views that this area in Ghargur offers. The entire walk is very enjoyable & I truly recommend it.
46. Gozitan Salt is definitely Gozitan Gold. And it has been for generations! I had a great pleasure to speak to several members of Cini family who have been proudly harvesting salt for generations!
47. Mosta Dome. The visitor's experience has improved a lot over the years and nowadays you can not only visit the rotunda, its roof for stunning views but also nearby restored WWII shelters!
Top Tips
Here are my 'Top Tips Lists' for winter activities, for places to visit in Gozo or on a rainy day, the best bench views in Malta and Gozo as well as highlights in couple of places such as popular St. Julian's in Malta or overlooked Mgarr in Gozo. And let's not forget all the gardens around the islands. Again a lot to see and a lot to discover!
48. Top 10 places to visit in Gozo. If you're planning a trip to Gozo and still putting together your itinerary, here are 10 suggestions that you should definitely include in your trip.
49. Malta's Top 10 Bench Views. I loved working on this blog. Looking for benches offering the best views. Want to be romantic or just go somewhere nice to clear your mind? Check the list!
50. Top 6 Attractions for a Rainy Day. Yes, even very dry Malta can get number of rainy days. Are you the type that doesn't want to just sit home only because it's raining? This one is for you!
51. St. Julian's highlights. This would be one of the most popular touristic areas in Malta. Is it your cup of tea though? Check out my list of Top 11 things to do in St. Julian's to help you decide.
52. Top things to do in Mgarr. Mgarr is a harbour town in Gozo. Even though the majority of people only spend here the necessary time to board the ferry there is actually a lot to do!
53. Gozo's Top 13 Bench Views. Due to the huge success of Malta's top bench views I had to do one for Gozo too! Unusual way to explore the island, enjoy it from 13 carefully selected benches!
54. Top 10 Parks and Gardens. This photo blog proofs that this tiny rock in the Mediterranean does have some beautiful parks and gardens! Did you know about all of them? Have you been?
55. Top 10 winter activities. Winter is my favourite time of the year in Malta, however some can struggle to find things to do in the low season. Here is my inspirational list that will help you.
Museums & Heritage
Malta is well known for its 7000 old history! For the oldest free standing structures in the world and number of UNESCO Heritage Sites. There is more! Hidden palazzos, windmills, outstanding Lascaris War Rooms and so much more! Category that deserves to be read very carefully.
56. Tarxien Temples. This UNESCO World Heritage site is proud to have the largest collection of stone sculptures to be discovered in any of Malta's Megalithic Temples! Add it to your list!
57. Ta' Kola Windmill. Located just few metres away from the Ggantija temples in Xaghra, Gozo. It is one of the few surviving windmills dating back to the Knight's Period! Worth a visit!
58. Wignacourt Museum. The entrance to the museum is only 5eur and you would need good 2 hours to see it all. From St. Paul's Grotto, World War II shelters to a vast art gallery!
59. Casa Bernard. One of those overlooked palazzos that would deserve much more glory! I would recommend everyone visiting Rabat to see this beautiful private 16 century pallazo.
60. Xarolla Windmill. This is the only windmill on the Maltese islands that is still fully functioning until today! Used mainly for educational purposed but general public can visit over the weekend.
61. Ghar Dalam Cave & Museum. Malta was once home to prehistorical animals such as hippopotamus, dwarf elephants, giant swans, wolves, deer or foxes. Don't believe it? Visit the museum!
62. National Library of Malta. It's not the regular place to visit I guess, but why wouldn't you when it's so beautiful and free? This reference library houses Archives of the Order of St John and more!
63. Classic Car Museum. The only car museum on the island is located in Qawra and it is a must-see attraction for any car enthusiast! There is a lot to see for everyone, it's not all just about cars.
64. Grandmaster's Palace. One of the first buildings in the new city of Valletta, the headquarters of Knights of St. John and currently housing the Office of the President of Malta. State Rooms and the Palace Armoury are open to the public.
65. Haqar Qim & Mnajdra Temples. Malta has one of the oldest free standing structures in the world and these are one of them! This UNESCO World Heritage Site is definitely worth your time.
66. Lascaris War Rooms. You MUST visit this place! You have to! I cannot emphasize enough how important it is for everyone to come here and learn the shocking history of Malta during WWII!
67. Ta' Hagrat Temples. Small and but still very interesting temples situated in the village of Mgarr. Unfortunately overlooked and little promoted site of great historical importance.
68. Malta Postal Museum. Let's go back in time and see how was post done and delivered in the past. Very interesting museum with large stamp collection! You can also make your own stamps!
69. The Toy Museum in Valletta. This is one of beautiful hidden family run museums that is worth visiting especially for the nostalgia it gives you. Those sweet memories of childhood!
70. Palazzo Falson. Welcome to the oldest palazzo in Mdina that is open to the general public. Located in the heart of the Silent City with a lot to offer to its visitors. Definitely worth a visit.
Gardens
Gardens! Malta does have parks and gardens! Quite a few actually! Yes, summer months are very hot and most of Maltese Islands turn brown, but during winter and spring months these can be your go to places for relaxation.
71. Chinese Garden of Serenity. This beautiful hidden gem is located in Santa Lucija, very close to the airport. You don't need much time to walk around, but you can spend hours enjoying it.
72. Sa Maison Garden. Looking for a place in Valletta where you can escape the busyness of the capital city? Then Sa Maison Garden is the right choice! Overlooked garden that you'll fall in love with.
73. Villa Rundle Garden. You can find this green oasis right at the centre of Gozo's capital city Victoria. Perfect place to rest your feet after a day of sightseeing or shopping in the capital.
74. Hastings Garden. Located in the immediate proximity of Valletta's City Gate. Being from the Czech Rep I like this garden a little bit more because it houses Vaclav Havel's monument.
75. Villa Bologna's Garden. You can visit this beautifully maintained garden for the fee of 6e and you will receive a map and digital guide to take you around. Popular location for weddings!
76. Salina National Park. Living or spending your holiday up north? Why not visit the Salina park also known as Kennedy Grove or Melita Gardens? Read my blog with 10 reasons to visit.
77. Ta' Qali National Park. One of the largest green areas in Malta offering vast parks, number of play grounds, petting zoo, open air theater and so much more. Ideal in winter & spring time.
78. Spinola Palace Private Garden. So much needed another green area opened its gates in St. Julian's. Private garden that has been closed to public for many years is ready to welcome you!
Experiences
There is a lot to experience on the Maltese Islands. Here are the alternative, unusual experiences that anyone can enjoy while visiting Malta or trying to spicy up their ordinary weekends.
79. Brilli. Discover the extraordinary game of 'brilli' that is nowadays only played on Sundays and Public Holidays in the village of Gharb, Gozo by handful of men. Ask them to let you play!
80. Luzzu boat trip. Visit to Malta wouldn't be complete without a boat trip around the Maltese Islands! And there is no better way to do so than on the traditional Maltese Luzzu!
81. Mermaid experience. Every little girl's dream can become a reality in Gozo! Turn into a beautiful mermaid for couple of hours, get stunning photos & even try to swim with the tail!
82. Corsairs tour. Here is something especially but not only for the boys! Learn the interesting and very shocking history of the corsairs in Malta! Did I say the tour guide is a corsair too? 🙂
83. Terramaxka. The one and only Terramaxka in Malta. Very important part of the Maltese folklore. You can see this magic instrument in the streets during feasts and at Christmas time.
84. Maltese tiles. Have you ever noticed the traditional Maltese pattered tiles on the floors of the old houses? They are still handmade until today and you can witness the magical making process!
85. Bizilla. Lace making has been part of the Maltese culture for centuries! However it is a dying art these days that HAJJA is trying to bring back to life. Wanna learn something new? Try this!
Bays & Beaches
This category is very short for the simple reason that I try and write about hidden, less popular places. You're all very familiar with Golden Bay, Ghajn Tuffieha, Ghadira Bay etc., so no need to mention them again. What's however missing on this list is Fomm ir-Rih and St. Peter's Pool because they're already listen in another category, so I won't have duplicates.
86. Slugs Bay. Beautiful little spot ideal for quick refreshing dip and snorkeling around the rocky shore. Haven't been there for a while, but I hope is remains as beautiful as it was 2 years ago.
87. Mgiebah Beach. This unspoiled beach in Mellieha is simply a paradise. It is a hassle to get to it through narrow road with two ways traffic and parking is a pain, but still totally worth it!
88. San Blas Beach. I guess it goes without saying that the best things are hard to get. This beach would be one of those places with a steep hill that even cars have problem with. Walk it & explore it.
Annual Events
Malta's event calendar is boosting with opportunities for entertainment and outings. Here you can check out the 80 pages brochure issued by Visit Malta. Here is just a handful of events that I experienced and wrote about. Don't worry I aim to visit more and more events around the island to give you first hand experience!
89. Umbrella Street. This would be by far ma favourite annual event. Because it's so simple, so colourful, so photogenic and makes so many people happy! Social media is basically flooded with it.
90. Maltese Festa. Call it a feast or a festa, this is one of the most popular events in Malta. During the summer months there are even 5 feasts on the same weekend! You got to experience at least one!
91. Easter. Easter in Malta is as important or probably even more important than Christmas. A lot of processions, re-enactment, as well as very popular Good Friday Night Walk in aid of Putinu Cares.
92. Good Friday Procession deserves its own blog. Why not to see them in Gozo? The best one would be in Nadur or in Xaghra since they do commentary in Maltese and English which really helps!
93. Carnival. This tradition goes back to the 15th century! It is always held during the week leading up to Ash Wednesday. There is a lot of hard work behind the stunning floats! Come to see them.
94. Native Village in Gozo. Bethlehem f'Ghajsielem. Next year (2020) it will be its 12th edition of reproducing –  The Story of Nativity – through several attractions spread over 20,000 sqm.
Activities
Are you bored by playing it safe all the time? Do you want an adrenaline boost or simply get out of your comfort zone? If yes is the answer than check the list below of some awesome activities that you can enjoy in Malta & Gozo!
95. Ziplining. I love the adrenaline rush that ziplining gives me! I tried already a number of them – in Valletta, under the Mosta bridge or Migra Ferha (my favourite). You have to try it!
96. Sup Sea Trek. Great balancing and toning exercise but mostly great fun! Henry is an awesome guide who will take you on an awesome trek that you will remember! Perfect summer activity.
97. Abseiling. If you're an outdoor person like me, you're always on a look out for new experiences. Here is one for you: abseiling! I got to say I was shaking with nerves, but will do it again!
98. Scuba diving. Believe it or not I'm a actually a certified 'Open Water Diver' and I can dive to 18m. Diving is definitely something you should try as Malta is very praised for its clear water.
99. Kayaking to Coral Lagoon. You got to come here! It's so beautiful! Coral Lagoon used to be a hidden gem that is quickly becoming a hot spot! Hire a kayak and come here to see it too.
100. Sky Walk & Free Fall Jump. Are you that kind of person that just has to try every new adrenaline activity that comes to the island? Here is one for you! Prepare to scream 'like a girl'. 🙂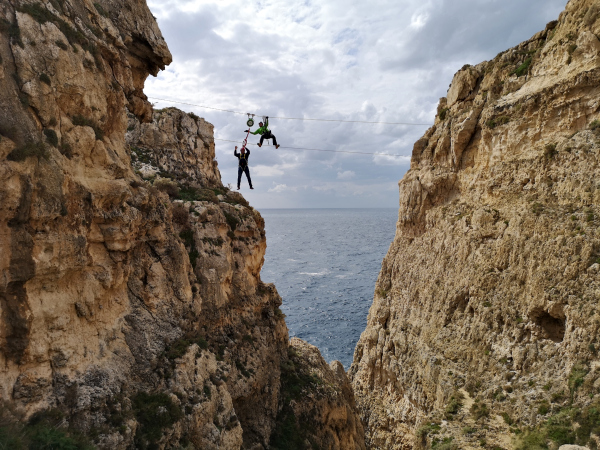 Yes! As you can see there is exactly 100 activities to do around the Maltese Islands! And this is not all! There is so much more to do believe me. This is just me summarizing how much have I discovere, how many places I've visited and how many events and activities I enjoyed in the last 30 months!
Please stay tuned for at least another 101 activities that I'm going to gather for you! Malta might be small, but at doesn't mean there is nothing to do, it only means that everything is more concentrated. 🙂 Do you have any questions or suggestions? Please drop me an email or leave me a comment below! 🙂