Top 10 things to do in Mgarr Harbour, Gozo
Your visit to Gozo starts at the point of your arrival – here at Mgarr Harbour. However, it shoudn't be just a passing point. There is actually a good amount of reasons, why you should spend at least an hour in this marina. I'm going to give you exactly 10 things you can see and do here!
1) Visit Lourdes Chapel
This Chapel is definitely the most noticeable landmark of Mgarr Harbour. The chapel is dedicated to Our Lady of Lourdes and offers spectacular views of the Mgarr Harbour. It is easily reachable by car or by foot from the harbour or from the village of Ghajnsielem. Lourdes Chapel was opened in summer 1893 and consecrated in 1949.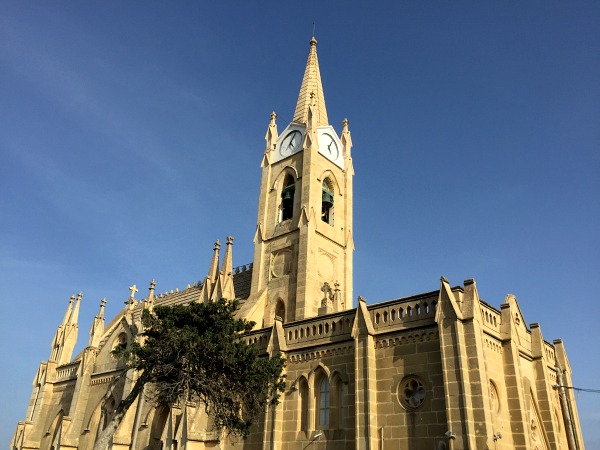 As you can see the chapel is built in a Gothic style. The tower has five bells and at its top. Right under the spire there are four clocks, one on each side. If you would like to know, the designer of the chapel was Emmanuel Galizia and it was built by stonemason Wigi Vella of Zebbug. Below you can see the inside of the chapel. The altar is dominated by the statue of the Virgin Mary of Lourdes. I don't think that the chapel is open to the public on daily bases. One can only see inside through an iron gate.
Before you continue, stop in front of the chapel for a moment and enjoy the magnificent views of Mgarr Harbour!
2) Have a drink at Gleneagles Bar
There are several establishments in Mgarr Harbour where you can sit down for a drink or meal. However this one in particular got my attention. Why? Well, just look at the interior decor of this bar. I just love these quirky decorations. You don't get to see this very often!
You can grab a seat at one of the tables or have a drink by the bar. I think trying to identify all the fish on display could be actually quite entertaining and challenging at the same time. I think this place should be definitely on your list of places to stop by.
Also let's not forget the terrace! What can be possibly better than starting your stay in Gozo, by having a nice refreshing drink at a local pub with this gorgeous view? I can guarantee that after posting couple of pictures on social media, everyone will be jealous! 🙂
3) Admire the beautiful mosaics
If you come to Gozo by car, you will definitely pass by this mosaic. This beautiful piece of art made of glass and ceramic is a nice way to welcome the public to Gozo. However, if you only drive to Gozo, just like me, you might have never realised that there is another mosaic exactly on the other side of the road!
This mosaic mural entitled 'Merhba bil-fjuri' was installed as port of the public art scheme in 2012 and it was created by Mary Portelli. In 2014 the below continuation of the original mosaic was added. If you look at this mosaic carefully you can spot couple of Gozo's landmarks.
My guess is that the tower above is actually the Dwejra Watch Tower. Would you agree? And the below must be Cittadella!
Obviously we coudn't leave Mgarr Harbour without taking a selfie! The mosaic backdrop was just too good! 🙂
4) Stroll along the promenade
You might be surprised to find out that there is a nice promenade all along the Mgarr marina. Don't worry I didn't know about it either! As I said it never crossed my mind to actually explore Mgarr Harbour before. But better late than never.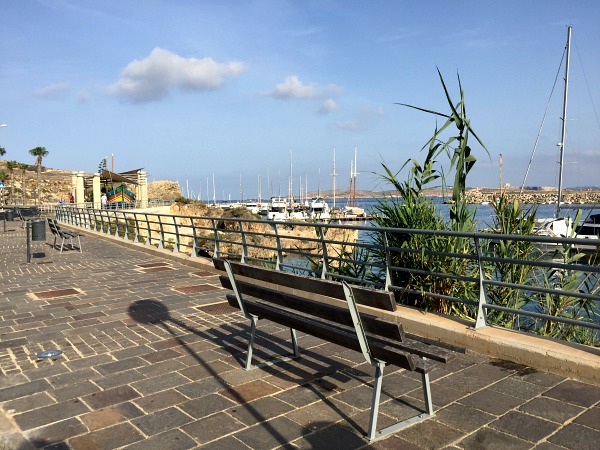 The promenade is couple of hundred metres long accompanied by number of wooden benches. If you are staying in the area, you can just come down here, have a seat and take in all the beauty of this marina.
5) Visit the Id-Dghajsa tal-Latini – The Gozo Boat monument
When walking alongside the Mgarr promenade at some point you will pass the monument of the last surviving dghajsa tal-talini (luzzu boat with sails) in Gozo. Once upon a time this wasn't more than just a hulk of a long abandoned lateen boat (a boat with a triangular sail set). It was beached and pronounced unseaworthy (not in a good enough condition to sail) in the 1980s. Wirt Ghawdex (a voluntary non-governmental organisation founded with the aim of fostering the knowledge of Gozitan heritage) urged the authorities to save this historically important artifact.
Luckily the Gozo Channel Co. Ltd. showed a keen interest in the restoration and conservation of this rare example of our nautical heritage. After all the boat is the predecessor of the Gozo Channel Company itself!
6) Learn about the Hondoq ir-Rummien tragedy
If you continue walking alongside the promenade, you'll reach yet another monument. However this one is unfortunately a memorial of a great tragedy. This year will mark 70th anniversary since 24 people lost their lives on 30th October 1948 when a luzzu sank off Hondoq ir-Rummier. Due to a stormy weather, a luzzu carrying 28 people capsized in rough seas shortly after it disembarked from Marfa. Only 4 people survived. This tragedy remains the worst maritime disaster since the Second World War. This memorial reminds us of everyone who lost their lives that day. If you would like to know more, you can read the full story here.
7) Discover Iz-Zewwieqa Bay
Right at the end of the promenade there is a small bay called Iz-Zewwieqa where you can enjoy a refreshing swim just like many other locals and visitors. As you can see there is a wooden bridge making the access to the sea more comfortable.
8) Enjoy the view of the Mgarr Harbour
After you're done with the exploration of the Mgarr Harbour, walk up the hill, towards the Grand Hotel. There you can pick one of the few wooden benches to enjoy the amazing views yet again! I don't know how about you, but I cannot get enough of this panorama!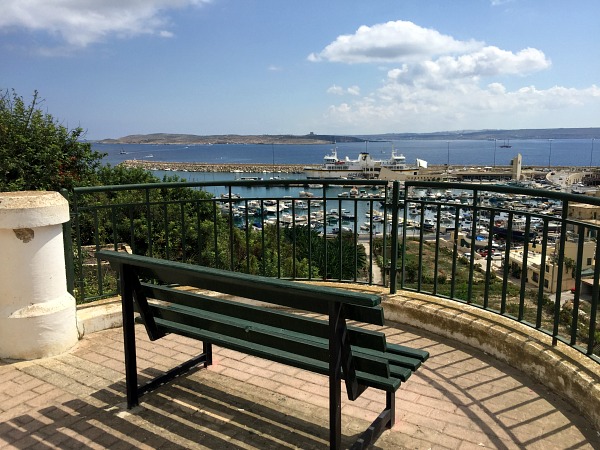 9) Have a look at Three Graces
The statue of Three Graces by Andrew Diacono was installed by EcoGozo as part of the public art initiative in July 2016. This sculpture is situated just in front of the main entrance to Gozo Ferry for pedestrians. So if you are arriving / leaving Gozo on foot, don't forget to check this out. Plus this statue is surrounded by number of benches and colourful plants that will make your wait for the ferry more enjoyable.
10) Observe the 'harbour life' while waiting
Did you know, that on top of the Gozo Ferry terminal there is a terrace offering gorgeous views of the Grand Harbour? Well, I didn't know either. I've recently learned that there is even a cafeteria, however closed to the public at the moment. But the roof is still accessible from the car 'waiting area' when boarding the ferry. So if you are stuck in the queue for the Gozo Ferry, why don't you go and check it out? I'm sure that observing the 'harbour life' is more enjoyable and entertaining than sitting in the car! 🙂
I hope that the above tips can keep you in Mgarr for a while longer before you set off to explore Malta's sister island. If you know about anything interesting that should be included in this list, please let me know. Otherwise I would like to wish you happy exploring next time your are in Mgarr Harbour! 🙂