The Story Behind The Umbrella Street in Zabbar
Welcome to the world famous umbrella street in Zabbar! Yes, that's right! Triq il-Kbira decorated with over a 1,000 colourful umbrellas made it to numerous foreign media from all over the world. Welcoming thousands of tourists and locals alike. Flooding social media with uncountable number of photos and videos. My own video from 2018 has 70k views! I mean like WOW!
What's the story? What is the reason behind this installation? And most importantly how long will be up for? Continue reading to find out!
As I obviously didn't know the answer to all these questions, I had to ask someone. And no one better came to mind than Zabbar's Mayor himself. Big thank you goes to Marc Vella Bonici for his patience answering all my questions! 🙂
Malta's biggest umbrellas are from Zabbar!
And this is how it all started. Since Zabbar is already synonymous for umbrellas, thanks to two gigantic feast umbrella owned by two Local Band Clubs, Zabbar Local Council wanted to do something else that would include umbrellas. After doing some research, the Zabbar Local Council came across pictures of the famous umbrella street in Agueda, Portugal and got inspired!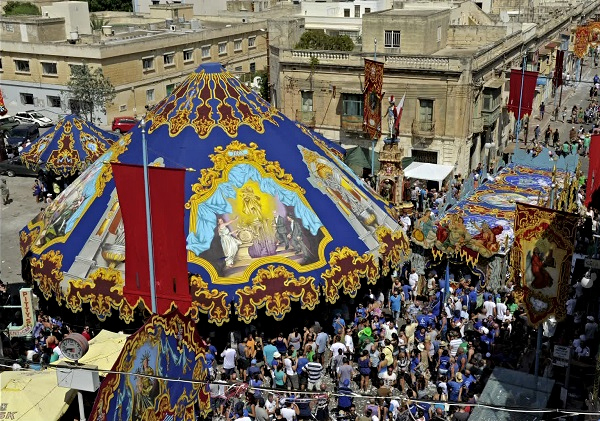 The umbrella street was an instant hit
The umbrellas were installed for the first time in June 2018 as part of the Crossroads @ Zabbar event. Unfortunately due to bad weather the floating umbrellas only lasted for about three weeks before they were damaged with strong winds. However, even such a short time was enough to create a huge buzz on the local and international media scene!
"Numerous buses were stopping by with tourists to take pictures. Maltese people living up north, who have never been here before, were calling us where Zabbar is and how to get here. We had a huge media exposure in Asia or South America. We welcomed a journalist from Reuters taking pictures and doing interviews.." says Mr. Vella.
Why Triq il-Kbira?
One of my questions was, why did they choose to decorate Triq il-Kbira over any other street in Zabbar. "It was the main street of Zabbar back in the day. The reason why this is the 'umbrella street' is mainly due to the characteristics of the road. We wanted to use the umbrellas to promote Zabbar. The traditional narrow streets. The traditional Maltese houses." explains Mr. Vella.
The whole point of this project was to put Zabbar on a map and it surely did!
Creating a tradition
On Tuesday night (21. May 2019) Zabbar Local Council decided to hang up the umbrellas once again. Yaaay! This years the Local Council bought stronger umbrellas, which will be hopefully more durable. Some were even printed with them emblem of Zabbar to give them more identity. They also expanded on both sides making the 'umbrella street' even longer and more Instagramable! Yes, they went all in and made it bigger and even better! 🙂
How long is the installation for?
Probably the most asked questions! "How long are the umbrellas up for? Will they stay throughout summer?" As you can imagine, the durability of such project is very dependent on the weather conditions. But if the weather is good, the floating umbrellas will be up until mid August 2019 when they will be changed for the feast decorations. Yes, Zabbar feast is something else to watch out for!
Knowing me, I had to go and check it out as soon as possible! I'm not sure who was more excited about these colourful umbrellas! If it was me or baby Oliver? Haha! 🙂
Feast of Our Lady of Graces
But don't be sad if you're going miss the umbrella street even by new days. Try and make to the Zabbar's festa instead and admire Malta's biggest umbrellas! The feast of Our Lady of Graces will be celebrated on 15the September 2019. It is one of the last big feast of the year and a good show is guaranteed!
Since Zabbar has two band clubs, there is a strong sense of competition as they try and outdo each other every year. Meaning only one thing! Double the party, double the fun! But if you need more arguments, here are 11 reasons, why you should experience Zabbar's festa! 🙂
Who are the umbrella heroes?
And who should we be thankful to? Zabbar Local Council, volunteers from Group Armar Zabbar AD 1988 and of course two town's band clubs – Socjeta Filarmonica Maria Mater Gratiae Zabbar and Ghaqda Madonna tal-Grazzja Banda San Mikel Zabbar! Big thank you to everyone involved! You made a lot of people smile!
What do the locals thing of this?
Living on the street that is decorated with hundreds and hundreds of colourful umbrellas must feel like living in a wonderland! "Obviously to set it up, we caused a little bit of inconvenience for the locals by closing off the road for a while. But overall they're happy. And proud!" says Zabbar's Mayor Mr. Vella.
I would be super happy to have this installation on my street! Would make me smile every morning! 🙂
And where exactly is this Triq il-Kbira in Zabbar where you can see all these colourful floating umbrellas? Below is the exact location!