Hiking in il-Wardija
I think we all need a break (as often as we can) from all that 'blue light' that we are exposed to from the moment we open our eyes till we fall asleep. Being it the phone, that we check first thing in the morning, the computer screen we stare every day for at least 8 hours or the tablet we do our shopping on. At least once a week, I try and escape it and spend couple of hours in nature to give my eyes and myself a break, recharge and get some extra vitamin D in my system. 🙂
And were did I end up going this time? Well, that's quite a nice story.. I have been passing by il-Wardija for the past four years while driving to work and thinking, oh this looks like a really nice area for a hike, but never actually made the effort to stop and go for the bloody walk! It wasn't until a friend of mine, Anna, pointed out how beautiful the area is and that I should definitely go. Once she told me, I didn't want to miss out and went!
Sometimes we all need that little push to actually go and do what we had in mind for months or years! Just like me! And this is just a walk I'm taking about, I'm sure we all have a never ending list of things we would like to do, but never actually get to it.
It all starts with a single step, doesn't it? I parked at Piscopo's Cash & Carry carpark, crossed the zebra crossing at the St. Paul Bay roundabout and followed the main road (uphill towards Xemxija) until the payment stopped (exact location here) and that's where I switched to the off road and started walking though these beautiful fields and meadows.
I had some stunning view while walking uphill towards il-Wardija. On the picture above you can see part of St. Paul's Bay and St. Paul's Islands. The picture doesn't really capture how beautiful the view truly is. It's even prettier in reality.
Below, the top of the hill, was my target of this walk. It was quite a steep climb at times, but I had frequent stops to take pictures or simply just to take in all the beauty and enjoy the moment. As you might already know, Malta might be a bit claustrophobic at times, especially when you find yourself in a build up area, but places like these just let you breathe and feel free. And happy. 🙂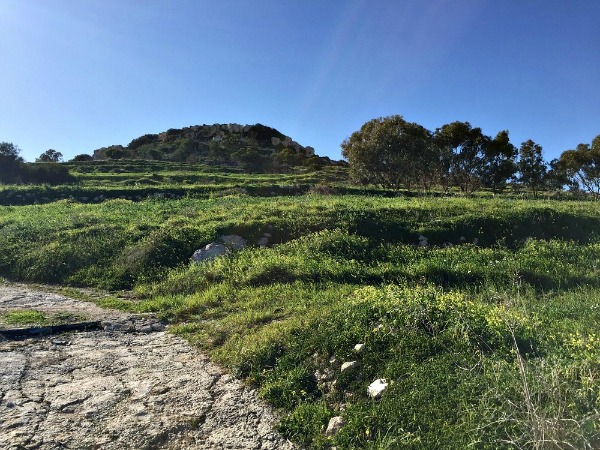 Couple of months ago I visited Bali for holiday and this view reminded me of the famous local rice fields. Don't you think this looks very similar? And that made me think, that I travelled thousands of miles, spent hours and hours on connecting flights and a huge amount of money and then I have something looking pretty much the same just behind the corner.
I know Bali is not the same and it was a great experience, my point is, that grass is not always greener on the other side and that sometimes we need to explore our own country first before spending all our savings on travelling the world. Just a thought. 🙂
On the picture below you can see a cross road, which you will reach at some point. I used arrows to make it easier for you. The one on the right shows, where you will be coming from and the one on the left points out the road you need to take to reach the top. It's a bit tricky there so just keep this in mind.
And here we are! Just look at the absolutely gorgeous view! I had to sit down for couple of minutes and just breathe. Count my blessings and appreciate this beautiful day and the beautiful country I'm so lucky to live in.
I love spending time in nature. It has such a positive effect on my mood and I believe even my health. I just feel happy. Having a smile on my face while walking around. I think nature is healing and it recharges my batteries and then I'm ready for another 40h work week. And this time of the year is my favourite as it's nice and green, not too hot for my walks and hikes and the countryside is just stunning!
The  map shows you the il-Wardija view point, which offers you outstanding views of St. Paul's Bay, St Paul's Islands, and the surrounding areas. If I wasn't pressed for time I could easily sit there for hours. 🙂 If you go, let me know how you liked it. x