Xlendi Tower and Surrounding Area
I've been having a lot of visiting friends and family lately which made me think of new areas to explore. Xlendi Tower is one of those places that have been on my radar for a while, but I never actually made it to the tower, until now! I thought having my dad over would be a great excuse, plus after a small trek we could justify Xlendi's delicious ice cream! So pretty good deal I think! 🙂
Conveniently enough there is a parking area just next to the path that takes you to the tower. So we left my car there and started walking.
Soon you will reach this tiny bridge, which is also a nice photo opportunity. After you cross the bridge the path will get a bit trickier, but still manageable. I would recommend you to wear comfortable shoes that are appropriate for uneven surfaces. Also the view gets more amazing the further you go. The cliffs in this part of Gozo are just stunning.
Here is the Xlendi tower with a jaw-dropping cliffs backdrop. This tower is the oldest free standing coastal watchtower in Gozo and it was built back in 1650 as one of the Lascaris towers. Its original purpose was to defend Xlendi Bay and keep out pirates and smuggles. The tower was armed with two 6-pounder guns, which were later changed to 4-pounders with its own Capo Mastro (Detachment Commander) and a Bombardier. The Xlendi Tower served as guardian of the bay until 1871.
The entrance to the tower is via an external flight of stairs, but the tower is currently closed as it's undergoing reconstruction. This is a shame, but there is more to see then just the tower. If you follow the path and pass the tower you will get to see some beautiful seashore with salt pans and amazing natural creations. 🙂
There were couple of other people wandering around or just sitting down and enjoying the view, which is even better than in the photo. If the village of Xlendi gets a bit busy this is a perfect hiding spot.
While walking down to the salt pans look back up to enjoy a different view of the coastal tower. I simply love the contract between the smooth limestone and the tower's rough bricks.
I'm so in love with the Xlendi Tower's surroundings. The seashore is simply amazing! You feel like you are on another planet. Don't you think? Smooth enough to sit or sunbath and hidden enough for some peace and quiet. Definitely worth exploring and the pictures you can take over here are good enough for a new Facebook cover photo! 🙂
We were like a couple of dwarfs exploring the area. I was just running around like a crazy person. Haha! I was simply happy and enjoying the moment. What can I say, I think you just need to look at the pictures that speak thousand words as I cannot promote this place more than this! Amazing coastline, breathtaking cliffs (which ever way you look), calming sound of the sea and hardly any people.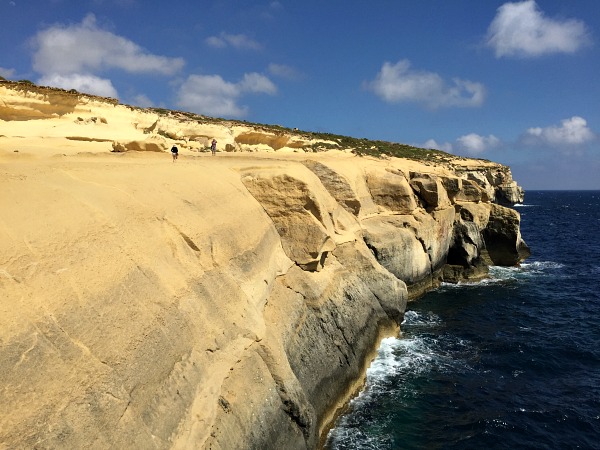 Let's not forget these random rocks laying around the flat coastline. The diversity is amazing. I think these two pictures just sum it up nicely. So if you are planning a trip to Gozo in the near future don't forget to check out this area. Walk around a little so you deserve the ice cream you're surely going to have later!
This is the point when we turned back and started walking towards the car but looking at the picture above it seems like you can continue the trek further, which I would definitely like to try next time I'm in the area, just to see where it takes me. Maybe I can walk all to way to Mgarr ix-Xini? Does anyone know if it is possible? Let me know! 🙂