The Secret Behind Traditional Maltese Tiles
I'm sure you've already had a chance to admire some of the traditional Maltese tiled floors. But have you ever wondered how are these traditional patterned tiles made?
In April Halmann Vella Ltd. hosted an open week in their factory. I was lucky enough, to be one of the few, who had a chance to join their factory tour. Are you excited to see the magic behind every tile, that's still until today, handmade by professional artisans? Yes? Here it is!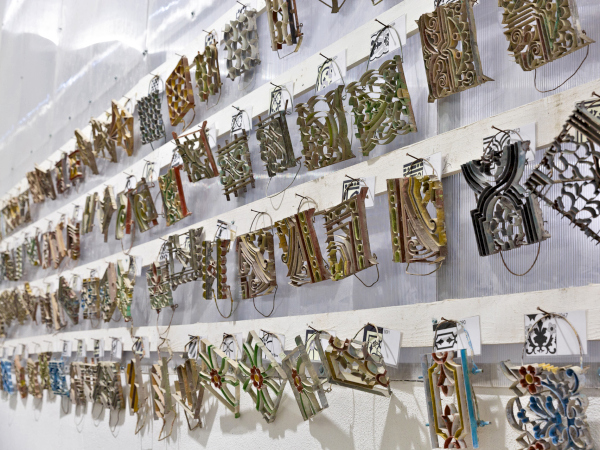 Here you can see some examples of their moulds. Every artisan has a sheet with the colour scheme he has to follow. Filling each section with the right colours. However everything is customizable to the clients liking. You can choose the colour code. You can even provide your own mould if you have!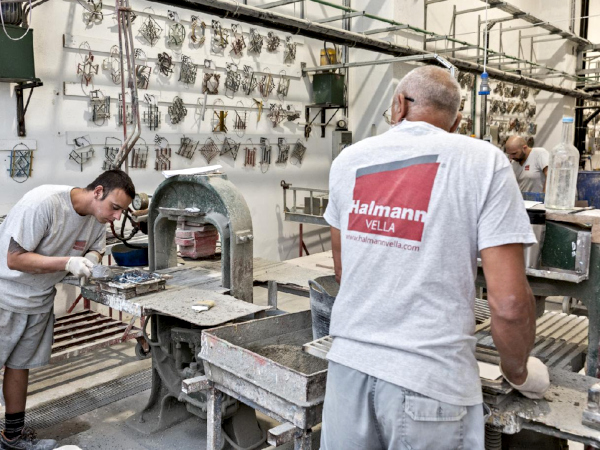 There are only 4 (5 at times) skilled artisans making these traditional handmade patterned tiles. It is unfortunately a dying trade. And how long does it take to make one tile? It takes somewhere in between 7 to 10 minutes depending on the pattern. As some are more complicated than others. However, that's not the end, that's just the beginning.
After that the tiles have to be cured for about 3 weeks. So if you would order your tiles today and there would be no other orders it would take about a month to receive. But realistically speaking, if you would walk in today, you would receive them somewhere in between 2 to 3 months depending on the factory's workload and the size of your order.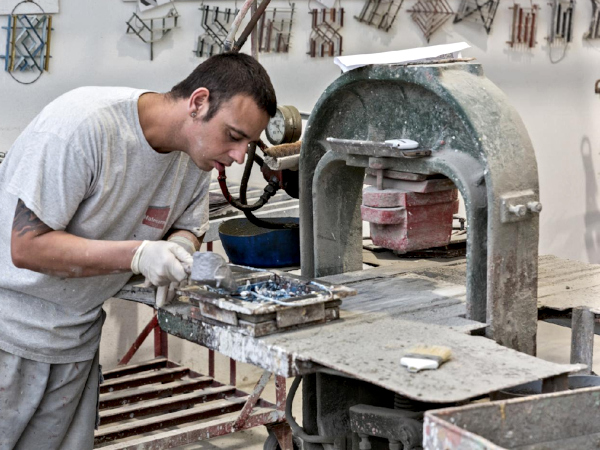 And what's the method? How are these tiles made? Well, it's done in 3 stages. They are made face down, so the very first layer made is the side you see. The patterned side. The mix for this layer consists of marble dust, cement and pigment.
After all the sections of the mould are filled in, the artisans shake the form a little bit to make sure the colours settle and remove the mould. Surprisingly the colours don't mix! I know it's some sort of physical magic, but still impressive.
The second layer consists of cement and sand. The sand was dried and cured before being used. This layer is very absorbent soaking up all the water from the first layer. The third and last layer, which gives the tile its strength, is made from cement, sand and hard stone chippings.
As already mentioned, these tiles are handmade. Therefore they are not perfect. But the imperfections makes them unique and gives them their character. Surprisingly or not, the traditional Maltese patterned tiles are still high in demand.
What I also think is worth mentioning, is the fact, that most of these artisans are deaf. Helmann Vella Ltd. is working with the Deaf People Association. They wanted to teach someone a trade, give them a safe environment to work and keep the tradition alive. Not so many people like to work manually these days. This way, people with such disability have a chance to work and at the same time play the crucial part in keeping the trade going.
If you're not familiar with Halmann Vella Ltd., the company is the leading supplier of marble, granite, travertine and other natural stone, as well as patterned tiles and quartz. They are also proud to still practice the traditional tile making method until today. Below are some examples of the finished patterned tiles. All available patterns you can find here.
I hope you enjoyed this experience and learnt something new that enriched your day. 🙂 I'll be dedicating more time to explore and learn about other traditional Maltese trades. So this is not the last one. This is actually the first one of many more that are about to come. 🙂