Top 15 Parks And Gardens in Malta
Lately I've invested a lot of time in exploring Malta's parks and gardens. I've visited a great number of them and I'm going to give you the TOP10!
It might come as a surprise to see how many green areas Malta actually have. Yes, there aren't any large forests that we can see abroad. However we have to remind ourselves that Malta is a tiny island in the Mediterranean with 300 days of sunshine. Which results in very little rainfall. Meaning very little greenery.
Therefore I think it is actually pretty awesome to have such beautiful parks, gardens and green areas I'm about to mention. Here is my list of TOP10 parks and gardens around the Maltese Islands. Enjoy!
1. Sa Maison Garden, Floriana
This garden used to be a home to Lady Julia Lockwood. She resided here between 1842 and 1856. The layout of Sa Maison Garden is rather unusual spreading over several levels. At the highest point, you can find a watch tower offering you great views of the harbour. Definitely worth a visit. You can also check my photo blog dedicated to this garden.
2. Hastings Gardens, Valletta
Hastings Gardens is a public garden in Valletta and it's located on top of St. John's and St. Michael's Bastions. When you enter Malta's capital through the City Gate, take the first left, walk up the stairs and you will get directly to the garden. I like this garden because it's quieter than the famous Barrakka Gardens, it offers plenty of seating and most importantly there is a monument dedicated to Vaclav Havel! 💖 Read full photo blog here.
3. Upper Barrakka Gardens, Valletta
Upper Barrakka Gardens are arguably the most popular gardens on the island. Why? I think it's for three main reasons. First of all, it offers absolutely stunning view of the Grand Harbour and the Three Cities. Secondly, a lot of tourists come to witness the gun shot at noon, which takes place at the Saluting Battery (just below the garden). And lastly, the Barrakka Lift is located right here. It costs 1eur and you can go and explore the Valletta Waterfront, which a lot of people forget about!
4. Lower Barrakka Gardens, Valletta
The main attraction of the Lower Barrakka Garden is most likely this monument in the form of an ancient Greek Doric temple. It is dedicated to the memory of Rear-Admiral Sir Alexander Ball who also served as a governor of Malta. Lower Barrakka Gardens offers the best view point to admire the Malta Siege Bell War Memorial. Also let's not forget the stunning views of Grand Harbour and the Three Cities.
5. Chinese Garden of Serenity, Santa Lucija
Possibly the best place to escape the hustle and bustle of the busy island and find your inner peace. The moment you enter Chinese Garden of Serenity in Santa Lucija you will feel you've stepped into another place, possibly another country. Hard to believe that you can find this piece of heaven here in Malta. Definitely a place to check out! If you want to know more, I've dedicated a photo blog to this garden.
6. Bologna Gardens, Attard
This is the only garden on this list that you have to pay to enter. Why? It is a private property and the successors live in Villa Bologna until today. However they made their gardens accessible to the public for a fee of 6eur to help with the maintenance expenses. You can spend as much time as you like in the gardens and you'll also get a tablet and a map to show you around. Want to know more? Click here.
7. San Anton Gardens, Attard
San Anton Gardens are literally across the road from Bologna Gardens. The gardens surround the San Anton Palace, which is the official residence of the President of Malta. As it has been customary for visiting heads of state to plant a tree in memory of their stay in Malta. Therefore you can look forward to seeing a variety of trees and flowers from around the world. There are also many beautiful fountains with ducks, swans, turtles and many other animals.
8. Buskett Gardens, Siggiewi
Why not visit the only woodland in Malta? Honestly, this should be on top of your list especially during winter/spring time when Malta is exceptionally green and blooming. Perfect for nice long walks and picnics! All you need to do is to pack up your picnic basket with goodies, your picnic blanket and head to Buskett Gardens. Don't worry if you don't fancy sitting on the ground, there are many picnic tables available on site.
9. Salina National Park, St. Paul's Bay
This is a family paradise! Starting with plenty of parking either on site or on the street parallel to the park, two huge playgrounds, cafeteria, easy access through out the park, picnic tables, water features and so much more! There are so many reasons why you should visit Salina National Park, and here are the TOP10!
10. Villa Rundle Garden, Victoria, Gozo
I know, it's not all about Malta and we shouldn't be forgetting Gozo! In which case I would like to mention the Villa Rundle Garden situated in the centre of Gozo's capital city Victoria. Perfect place to recharge and rest your feet after a whole day sightseeing.
11. Villa Frere Garden, Pieta
The landscape garden was created by Rt. Hon. John Hookham Frere in the mid-1800s. What you're seeing today is only a third of the original area (including the Villa Frere). This English neoclassical terraced garden includes a number of wells and includes a Neo-Classical tempietto known as 'the temple' at the highest point. Villa Frere's garden is open to the public every first Saturday of the month from 9am till 1pm. Entrance fee is 5eur which goes towards the restoration works.
12. Gnien Laparelli, Valletta
This ditch was excavated during the constraction of Valletta's fortifications as part of the city's outer defence system in 1566. It also served as a source for the stone blocks that were used to build the City's fortifications and other buildings. The rehabilitation of the ditch into a public garden was implemented in 2018. Gnien Laparelli was inaugurated in February 2019. It created another very much needed recreational space for all visitors to enjoy.
13. Spinola Palace Garden, St. Julian's
Unexpectedly beautiful green oasis in the heart of St Julian's. This garden was closed off to the public for many years, but it has reopened its gates again in June 2019! It's a small garden, but very refreshing. This little piece of green paradise in the middle of a busy area is exactly what you need. You can read the full blog here.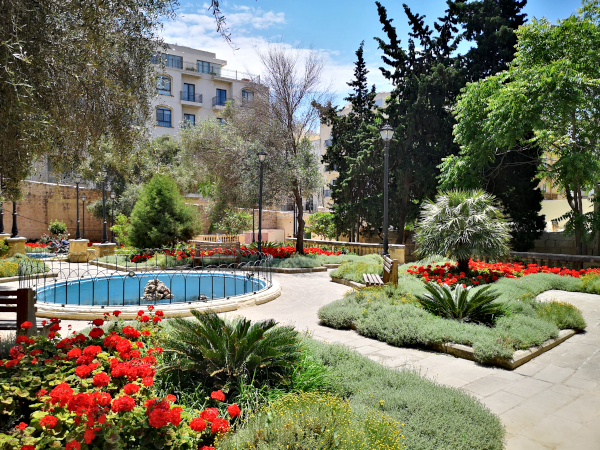 14. Argotti Botanic Garden, Floriana
Welcome to Argotti Botanic Gardens & Resource Centre in Floriana, the Commonwealth's third oldest botanical garden. Today Argotti Gardens have a dual personality. The publicly accessible area contains rare trees, plans and flowers. There are plentiful of benches to enjoy some needed relaxation and gorgeous views. The botanical garden has several roles including maintaining indigenous and exotic collections of plans, cactus plans and succulents.
The inner section of the Argotti Botanic Gardens is administered by the University of Malta, meaning that the garden also educates as many University students undertake their research projects here. The gardens are periodically open to the general public for guided tours and surplus plant sales. If that's of your interest, please send an email at argottigardens@um.edu.mt.
15. Limestone Heritage Park and Gardens
I have to admit, I've never actually managed to visit the Limestone Heritage park. The one time I came here it was closed. However me and my 2 year old son still enjoyed the gardens. It's a very nice and quiet place. We ordered drinks and some cakes from the cafe and had a very pleasant morning.
Oliver likes to run around and there was plentiful space, but what he loved the most were the donkeys and goats, who are the permanent residents here. The Limestone Heritage is situated in Siggiewi, so if you happen to be in the area, definitely stop by.
I hope you enjoyed this photo blog and got some new ideas for your next day out! Take advantage of the beautiful weather and the greenery the Maltese Islands got to offer! And which garden is your favourite? Let me know in the comments below. 🙂