New Adrenaline Rush: Sky Walk & 20m Free Fall Jump
Shout out to all adrenaline seekers! Conquer your fear of heights and sign up for this adrenaline activity! What am I talking about? Sky walk with a 20m free fall jump! Am I speaking your language? Then keep on reading!
I don't think that I'm super scared of heights, but I'm not exactly comfortable either. Especially when I'm about to walk in 20m height on a steel rope by just holding on to another one… But then again it wouldn't be me if I wouldn't try it out! Luckily I had my mum over to baby sit while I was 'walking in the sky'. Thanks ma!
Let's start with the location. The 'Sky Walk' took place at Migra Ferha, the outskirts of Rabat. If you've been here before you would probably agree that it is a bit of a hassle to get there. You got to have a car. But you can make a day out of it and after the 'Sky Walk' you can go for a nice trek around the area. Especially at this time of the year the countryside is beautiful.
Now, what is this all about and what to expect from this activity? Well, first of all I would like to say a big thank you to the organisers! Thanks goes to the MC Adventure crew for doing this and being super professional! Thank you for constantly coming up with new activities and keeping us outdoors and always challenging ourselves!
So if you are among the brave ones who would sign up for something like this, here is what you got to do. You will be given a helmet and a harness to keep you safe for a starter. Once you get to the starting point, you will be secured to the steel rope. Two feet on the bottom rope, two hands on the top one and the secure line in the middle. And off you go!
My first thoughts were like… 'How am I going to hold on and actually walk on this?' But it wasn't as bad as I thought. The steel ropes were pretty steady. So it wasn't that hard to stand on. The next step was to walk to the MC Adventure crew member who was waiting approximately in the middle of the cliffs. My advice?  Don't look down! 🙂 Haha I know it might seem obvious if you are a bit (or a lot) scared of heights, but it does help a lot!
Once you get to the MC Adventure crew, you will be safely secured to another rope, which is part of what they called "the magic device". This will allow you to experience that feel of a 'free jump' for few seconds before it smoothly slows you down and gets you to the ground safely. I was a bit worried how hard would the rope pull, but it was actually surprisingly gentle which I really appreciated!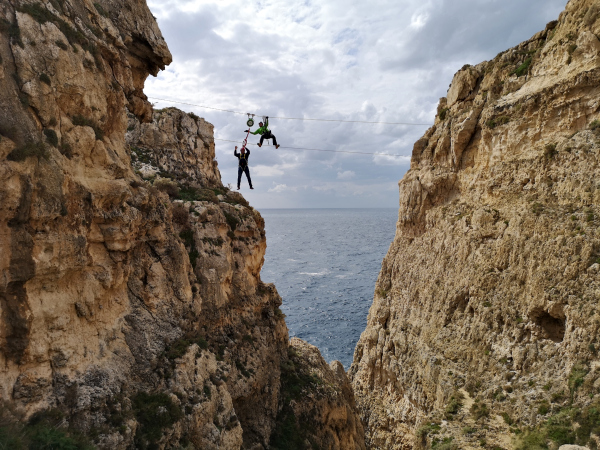 Well, I'm not going to lie and say that I wasn't scared or that I didn't scream! I did scream and I screamed pretty loud! But that 'free fall' feeling is horrifying and sensational at the same time. I'm not sure how to exactly describe what I felt at that very moment. You have to try it for yourself.
To ensure that your landing is as smooth as possible there is another member or MC Adventure crew waiting for you. There is absolutely nothing to worry about. Everything is prepared with a great care and quality equipment that the only thing you got to fear is your shaky feet! Haha!
And how much does this cost you may ask? It's 15eur for an adult. Yes, the whole experience doesn't last longer than couple of minutes, but the feeling you got to feel is priceless. That's why you got to try it!
And this is how the 'free fall jump' looks from a close up! I was surprised I managed to keep the GoPro aiming at me! Haha. Apologizing in advance for all that screaming! 🙂
Below is the exact location of Migra Ferha. This is also the place where MC Adventure organises one of their zip lines! Definitely another adrenaline activity that got to be on your list! I've done already 3 zip line rides (Migra Ferha, Mosta & Valletta) with these guys and I think this one is the 'scariest / most fun' one. Interested? Then keep an eye on MC Adventure's event calendar!