Is-Simar Nature Reserve
Welcome to one of the few nature reserves you can find in Malta. Alongside with Ghadira Nature Reserve and Salina Nature Reserve, Is-Simar is managed by BirdLife and they're doing an amazing job! It's a great place to visit and you can walk all the way around the reserve (for those who were disappointed that Ghadira Nature Reserve's public path only goes half way).
Is-Simar might be relatively small in size, less than five hectares, but this wetland supports a lot of birds across all seasons. Thanks to its function as a bird sanctuary it was saved from being swallowed by development many times. If you're are wondering, the nature reserve got its name from the sharp rush (Is-Simar in Maltese), which is regenerating throughout the reserve.
This reserve is not only important for the migrating and residing birds, but also for us people. We need to stay connected with nature, rest our eyes in greenery and calm our mind listening to birds singing and grass rustling. Therefore it's very import to support and protect such places.
Is-Simar is located in Xemxija and open to the general public between September and May. Weekdays on Tuesdays and Fridays from 2pm till 6pm and on Sundays from 10am till 4pm free of charge. Donations of any value are highly appreciated and I encourage you to do so.
What can you look forward to when visiting Is-Simar Nature Reserve? Peace and quiet to begin with. If you're a bird enthusiast bring your camera or binoculars as there will be an opportunity for bird watching in the hide. There are also several benches along the way, so you can rest your feet, enjoy the scenery or have a small snack. I don't want to say a picnic, because the idea is to keep the reserve peaceful and be respectful to all residing animals.
If you look carefully you can spot different kinds of bids though out the year at is-Simar. It is also the only place in Malta where little grebe and common coot nest in the wild. Children and adults alike can learn a lot though the informative boards placed in the reserve.
Did you know that if it wasn't for BirdLife efforts, there would have been a theme park instead!? It's true indeed. To start from the beginning, there were past attempts to drain the site for agriculture. However nature took its course. Seasonal flooding, brackish groundwater and exposure to salt-laden grigal gales rendered the area unusable for such purposes. Unfortunately our human activity, made it even worse with hunting, littering and regular sewage overflow massively degraded the area.
In the late 1980s the site was threatened by a proposal to build a theme park on its premises. Luckily, BirdLife's proposal to restore the area was accepted and in 1992 habitat restoration works started. Ever since Is-Simar has serves as a bird sanctuary and a Ramsar Site since 1996.
Thank you BirdLife for making it possible for us and our children to enjoy this little piece of heaven.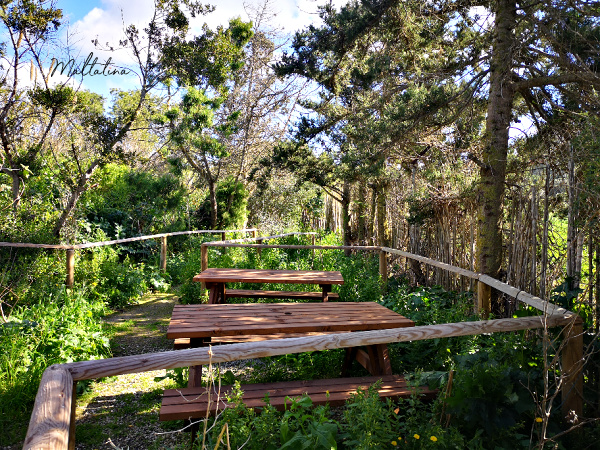 This is the view you get once you enter the hide. Pure bliss, isn't it? There are pictures of all the birds that you can see in the reserve on display. All you need is your binoculars and patience.
It was a lovely walk throughout and we truly enjoyed it. Give these nature reserves a visit, they are truly beautiful places that also need our support to keep them going. Below you can see the exact location of Is-Simar, so pin it for your next adventure.
Also I would like to mention that you can by Malta, Gozo & Comino Memory Games and other products on my shopmaltatina.com e-shop, which will support me to keep these blogs coming. Thank you. 🙂